Last update: Sept 14th
At least 96 people died as a result of the damage caused by the magnitude 8.2 quake of Tehuantepec that shook southern and central Mexico on the night of September 7-8, 2017: 76 in the state of Oaxaca, 16 in Chiapas and 4 in Tabasco. It had until now 1,941 replicas located in the coast of Chiapas.
In Chiapas, 97 municipalities have been declared zones of natural disaster (see the list here), and 283 in the state of Oaxaca (see the list here). At least 1.5 million people have affected in Chiapas according to the Federal government.
>> MAP OF AFFECTED COMMUNITIES OF CHIAPAS <<
In municipalities of the Coast of Chiapas like Tonala and Pijijiapan, hundreds of families have no home because their houses have been destroyed or present too many damage to be safe places during the replicas. But as days pass by, the situation becomes less "urgent" to the authorities, the number of shelters decreases and less and less supplies are arriving. Besides, many shelters only serve food and most of the people have to sleep in their damaged houses or ask their neighbors or family members if they can spend the night at their place. Lots of them are still in shock and haven't got back to work, most of the public services are closed and the schools are shut down.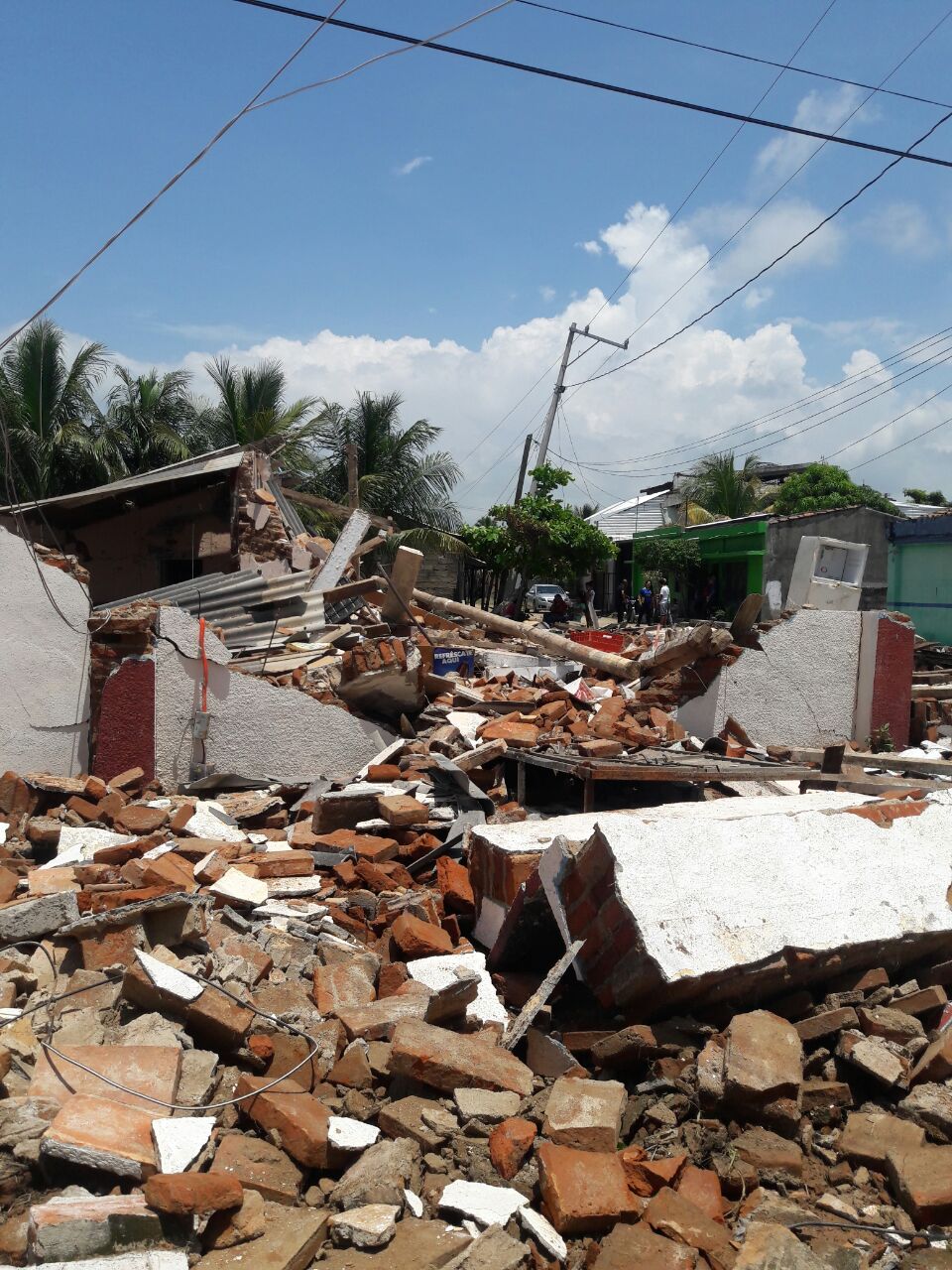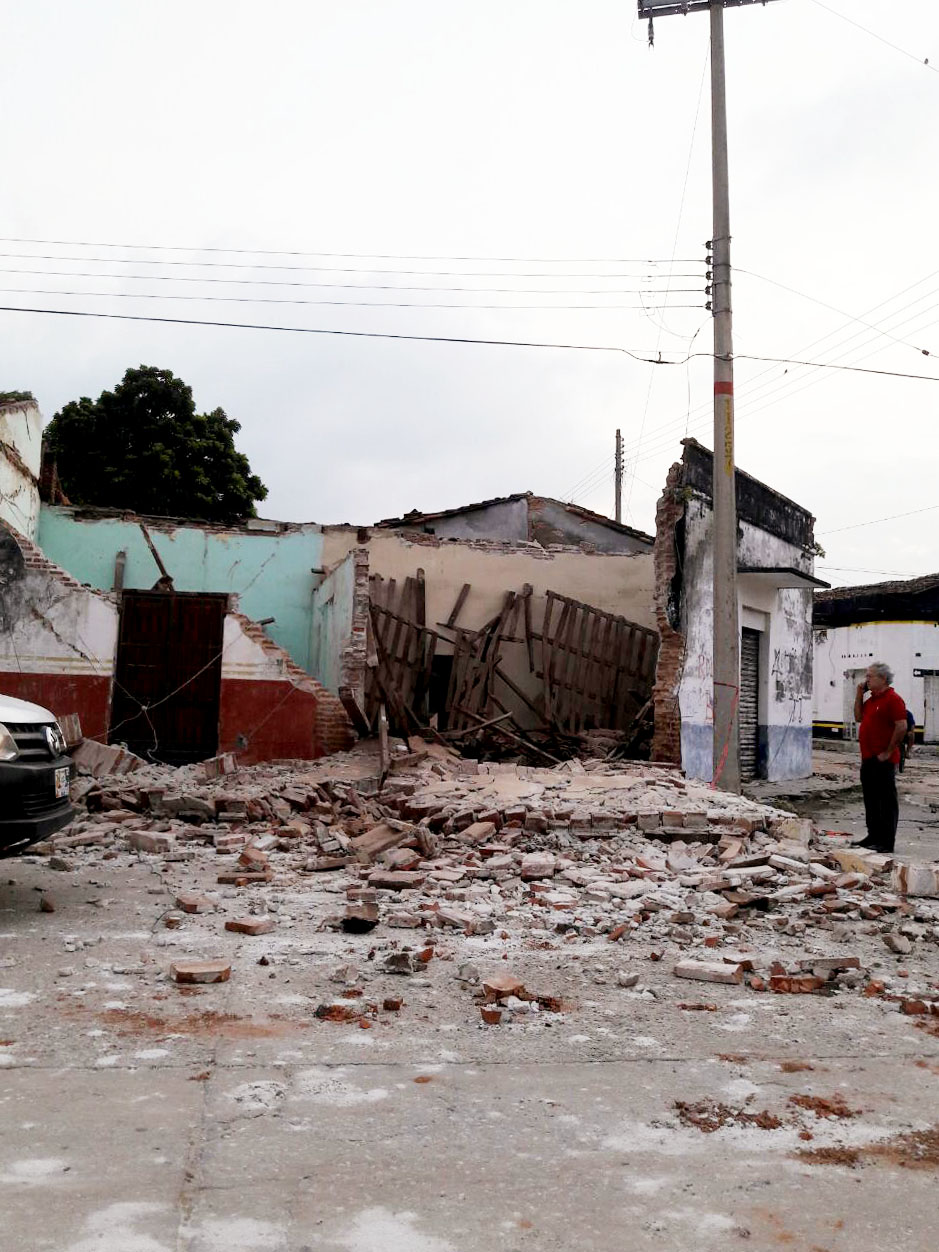 Fotos: Damage in Tonala, Chiapas (Credit: Centro de Derechos Humanos Digna Ochoa A.C.)
"The situation is about to get more and more complicated because people will still need help until they get their homes back whereas the official assistance is decreasing and is going to be insufficient", says Nataniel Hernández, from the Digna Ochoa Human Rights Center (Centro de Derechos Humanos Digna Ochoa A.C..). He reports that in many rural communities of Pijijiapan there is no shelter nor provisions from official authorities for the hundreds of people in need. In the urban center of Tonala, various shelters opened right after the eartquake but now there is only one left, that gives food to 200 people. In the community of Paredon, there is a shelter where 2000 people are still seeking help.
"Civil society must keep helping", Nataniel says. With the Regional Autonomous Council of the Coast of Chiapas and the Civic Front of Tonala, the Digna Ochoa Human Rights Center coordinates the collection of fonds and provisions for the affected population of Tonala and Pijijiapan. On Wednesday Sept. 13th they received a first delivery from San Cristóbal de las Casas (see below where to leave provisions in San Cristóbal de las Casas). "We will give these provisions to the community kitchens that have been set up in the urban and rural zones of Tonala and Pijijiapan to compensate the lack of official support", explains Nataniel. Members of the Regional Autonomous Council of the Oast of Chiapas work in these community kitchens, but extra help is more than welcome.
It is urgent to send the following food to the shelters: food (preferably canned), water bottles, personal care items (soap, towels, sanitary napkins, diapers …), basic medicines (diarrhea, headache, influenza) and light sheets.
A – HOW TO SUPPORT THE PEOPLES OF CHIAPAS:
1 – If you want to make a deposit, you can do it through the bank account of DIGNA OCHOA HUMAN RIGHTS CENTER (CENTRO DE DERECHOS HUMANOS DIGNA OCHOA A.C.)

Bank account: BANAMEX 0859963
CLABE (banking cypher): 002135700608599636
Swift: BNMXMXMM
Adress: Calle 1º de mato #73, Colonia Evolución, Tonalá, Chiapas, México
Phone number: +52196635779
Email address: centrodignaochoa@hotmail.com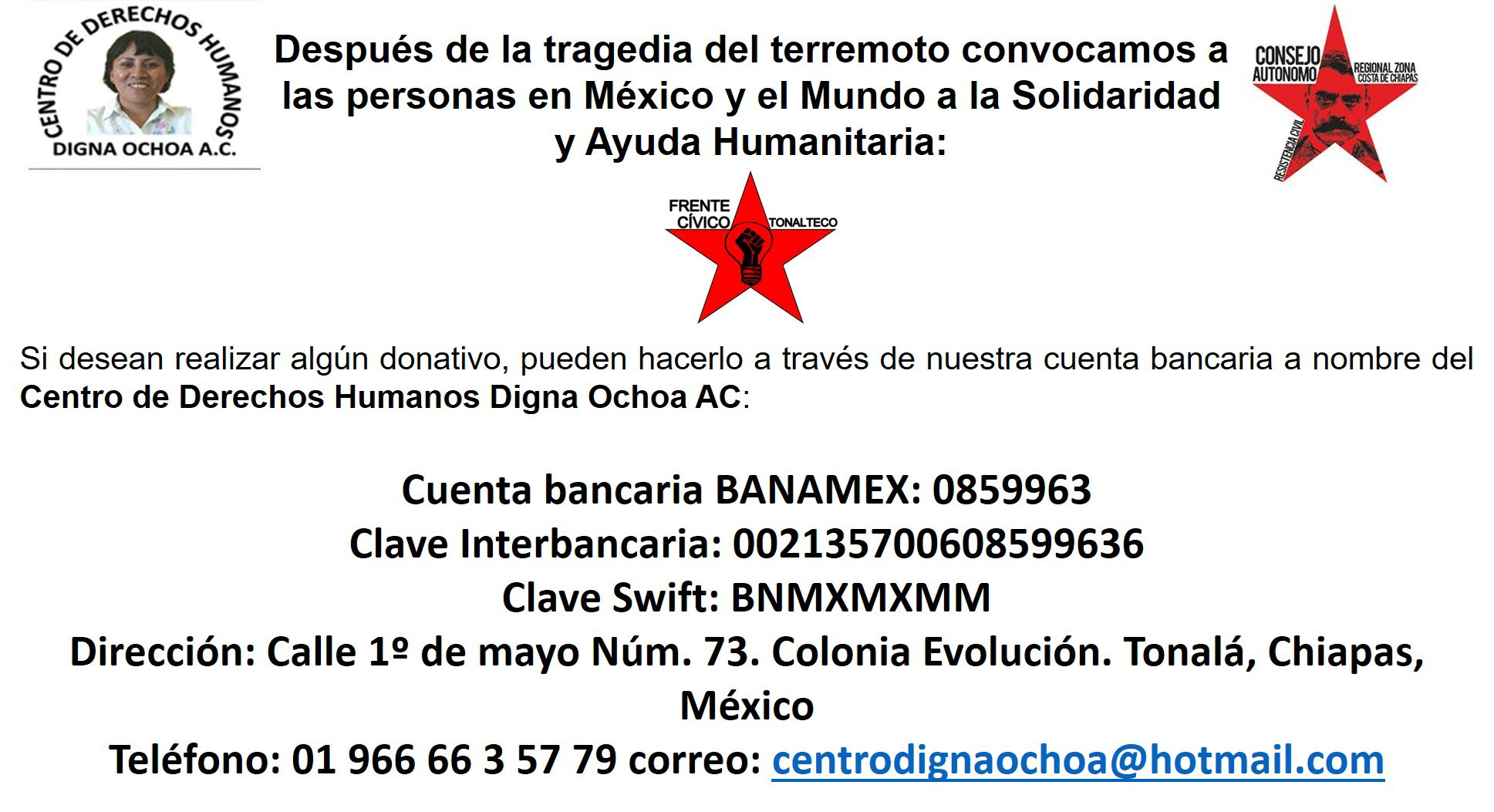 2 – If you live in San Cristóbal de las Casas, you can go to the collection centers of:
– LA COSECHA (Belisario Dominguez 30, Tuesday – Subnday 10:30-21:30)
– NEMI ZAPATA (MªAdelina Flores 57, Monday to Friday 9:00-14:00)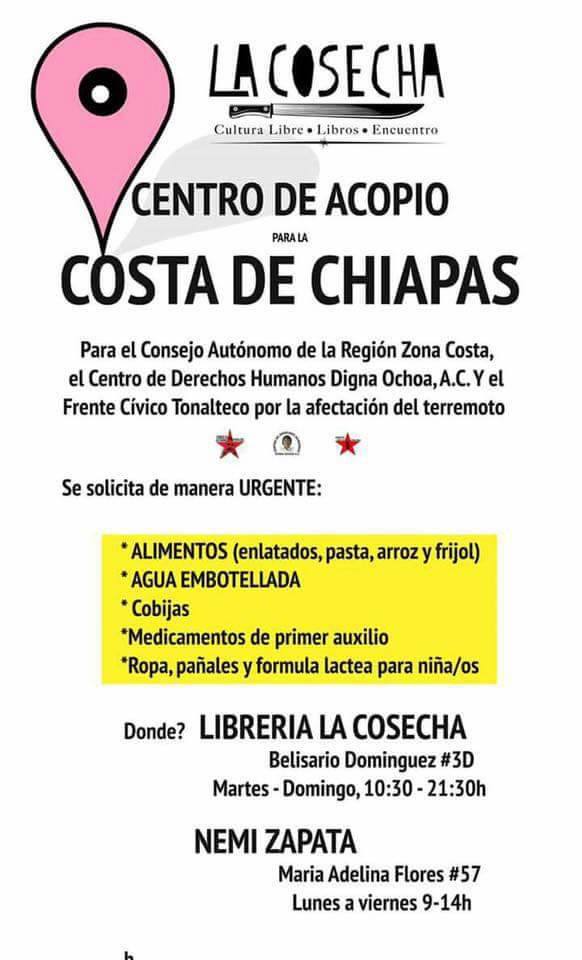 B – HOW TO SUPPORT THE PEOPLES OF OAXACA:
1 – If you want to make a deposit, you can do it through the bank account of the CENTER OF HUMAN RIGHTS TEPEYAC OF THE ISTMO OF TEHUANTEPEC A.C.:
Marcelino Nolasco
Santander Preferente
Account 60554966201
Card: 5579070063693678
Cable: 014626605549662017
Copy to marcenolasco_@hotmail.com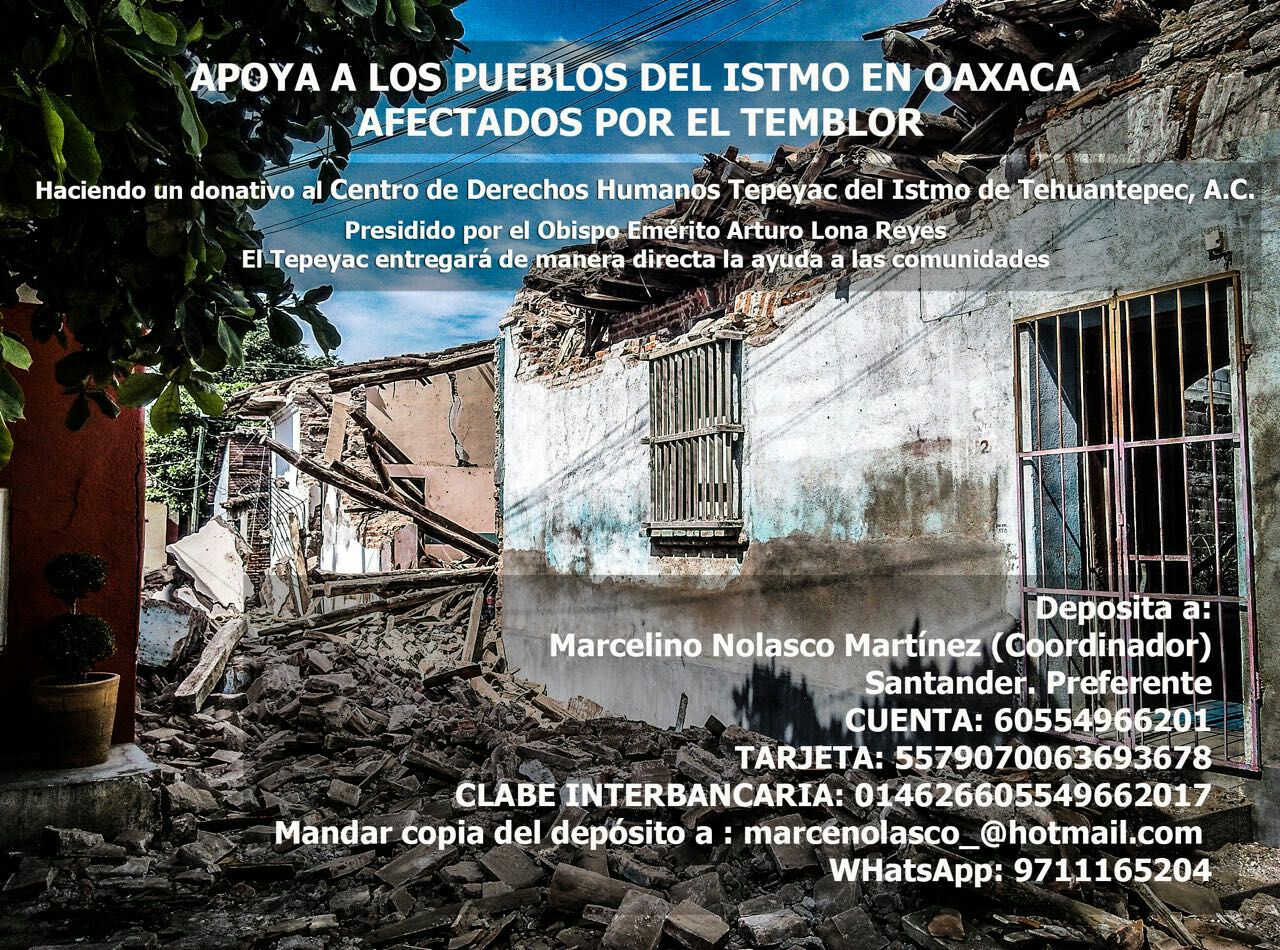 2- If you live in THE CITY OF MEXICO, you can go to the permanent collection center organized by THE ASSEMBLY OF INDIGENOUS PEOPLES OF THE ISTMO IN DEFENSE OF THE EARTH AND THE TERRITORY (APIIDTT):
Adress: Cerrada La Viga #7 int.2, colonia ampliación Asturias, in front of the Circo Volador, getting out of the metro La Viga (Line 8)